第26回 日本臨床エンブリオロジスト学会「今、エンブリオロジストに必要な技術と知識」
株式会社アイジェノミクス・ジャパンは、第26回 日本臨床エンブリオロジスト学会にて、オンラインセミナー「PGT-A: Past, Present, and Future.」を共催致します。

英語音声+日本語字幕での配信となります。是非ご参加ください。
演者:Carmen Rubio 先生
アイジェノミクス PGS Research Sr Director in Research & Development(スペイン)
スペインバレンシア大学にて生殖医療分野におけるPhD取得後、20年以上にわたり着床前診断である染色体異数性およびモザイク胚に関する研究に従事。その功績によりIgenomix HQのPGT部門のディレクターとして現職に至る。
演題:PGT-A past, present and future
The most common genetic abnormality identified in human embryos is aneuploidy. This abnormality is particularly common among embryos produced by in vitro fertilization (IVF), where more than half are aneuploid. For this reason, identifying the euploid embryos with the highest potential to implant and establish ongoing pregnancy is crucial. New molecular technologies have emerged in recent years to improve aneuploidy detection, and the latest one, Next Generation Sequencing, has allowed the identification of mosaicism in trophectoderm biopsies. On the other side, there have been different attempts to overcome trophectoderm biopsy to diagnose the chromosomal content of the embryos. Some groups started with the analysis of blastocoel fluid obtained by aspiration with a thin micropipette as a less invasive approach than TE biopsy. Later on, some groups proposed a "true" non-invasive approach consisting in the study of the spent culture media to analyze the embryonic cell free DNA released by the embryo during the latest stages of preimplantation development. After the first publications, several studies have compared the results in trophectoderm biopsies with the results of the spent culture media, to establish the concordance rates among both approaches. Our group have developed a non-invasive approach, Embrace, to prioritize the embryos for transfer based in the analysis of the spent culture media. This would represent a global strategy for every IVF patient who wants to increase the chance of having a healthy baby at home.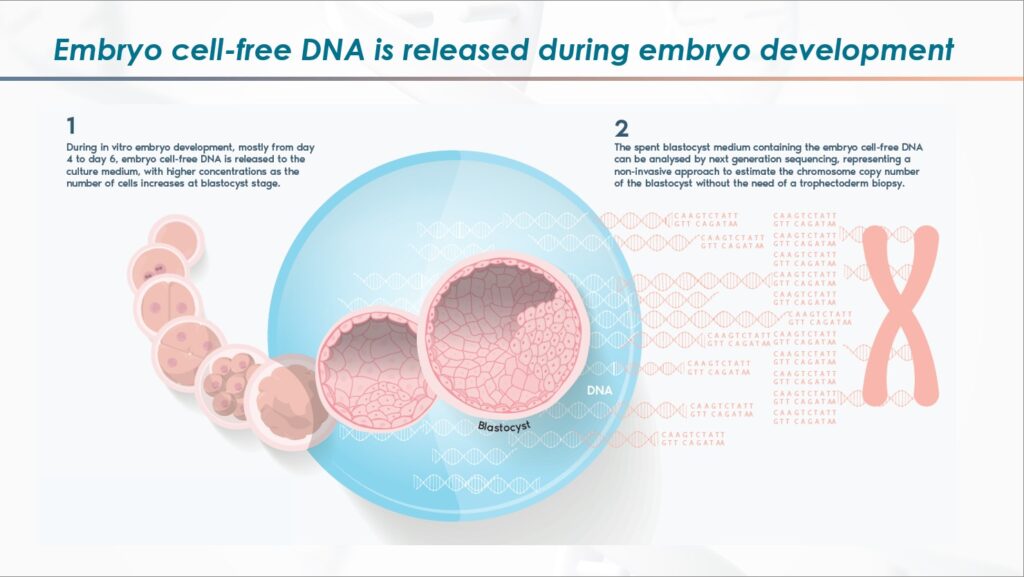 Carmen Rubio 博士の論文、出版物等
Rubio C et al. American Journal of Obstetrics and Gynecology. Available online: 26-MAY-2020 DOI information: 10.1016/j.ajog.2020.04.035
Rubio C, et al. Embryonic cell-free DNA versus trophectoderm biopsy for aneuploidy testing: concordance rate and clinical implications. Fertil Steril. 2019 Sep;112(3):510-519.
Vera-Rodriguez M, Diez-Juan A, Jimenez-Almazan J, Martinez S, Navarro R, Peinado V, Mercader A, Meseguer M, Blesa D, Moreno I, Valbuena D, Rubio C, Simon C. Origin and composition of cell-free DNA in spent medium from human embryo culture during preimplantation development. Hum Reprod. 2018 Apr 1;33(4):745-756.
Rubio C, et al. In vitro fertilization with preimplantation genetic diagnosis for aneuploidies in advanced maternal age: a randomized, controlled study. Fertil Steril. 2017 May;107(5):1122-1129.
Vera-Rodriguez M, Rubio C. Assessing the true incidence of mosaicism in preimplantation embryos. Fertil Steril. 2017 May;107(5):1107-1112.
Vera-Rodríguez M, Michel CE, Mercader A, Bladon AJ, Rodrigo L, Kokocinski F,
Mateu E, Al-Asmar N, Blesa D, Simón C, Rubio C. Distribution patterns of segmental aneuploidies in human blastocysts identified by next-generation sequencing. Fertil Steril. 2016 Apr;105(4):1047-1055.
アイジェノミクスについて
生殖バイオロジー研究の第一人者、カルロス・シモン教授(アイジェノミクス最高技術責任者兼バレンシア大学及びハーバード大学教授)がR&Dを率いる、生殖遺伝子検査のリーディングカンパニー。不妊治療、特に体外受精を行う際の、子宮内膜に関わる不妊因子を特定し、妊娠率の向上に貢献するERA・EMMA・ALICE検査、また胚の染色体異数性を特定し流産を防ぐ着床前検査など、医療のための様々な遺伝子検査を提供している。